Press Release – Summer Concert Gala at Stonington Vineyards – 6.25.22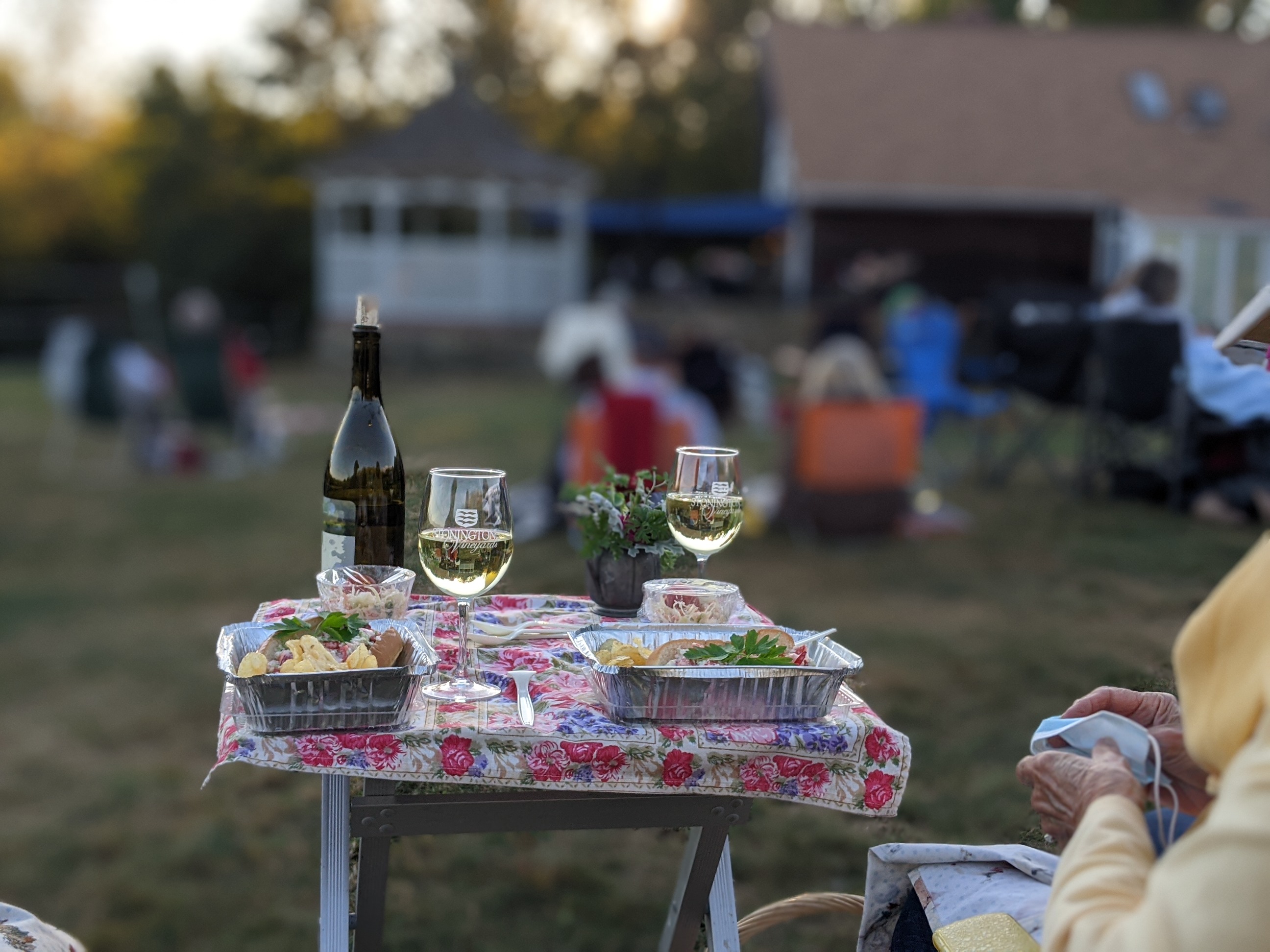 Friday, May 27, 2022
FOR IMMEDIATE RELEASE
CONTACT: Caleb Bailey, [email protected]
Click here for downloadable PDF version
ECSO returns to Stonington Vineyards for a summer concert gala – Saturday, June 25th, 2022
The Eastern Connecticut Symphony Orchestra will be holding a summer concert fundraiser at the Stonington Vineyards on Saturday, June 25th (rain date: June 26.) Doors open at 6pm, with the concert scheduled to start at 7pm. The concert will feature ECSO musicians, led by Music Director & Conductor, Toshiyuki Shimada. The orchestra will perform works by Leonard Bernstein, Johann Strauss, Jr., John Philip Sousa, and more, in addition to special selections from Andrew Llyod Webber's Phantom of the Opera performed by soprano, Sarah Yanovitch-Vitale, and tenor, Gene Stenger. The Summer Concert wraps up in red, white, and blue with "The Stars and Stripes Forever," probably the best known of John Philip Sousa's 130-plus marches—and a special favorite of piccolo and trombone players.
Tickets are available to purchase starting at $40 per person at ecso.givesmart.com.
"Stonington Vineyards became one of the ECSO's new partners during the pandemic, and we are so excited to build on this new tradition with another outdoor concert event. Not only will this be an entertaining night out for all, it will also help us reach our budgeted goal for the end of this celebratory 75th anniversary year," said Executive Director, Caleb Bailey.
Attendees are encouraged to pack a picnic, and there will be food trucks on site offering food for purchase. Stonington Vineyards wine will be available for purchase inside the winery and accordingly, no outside alcohol may be brought to the event. Bring a blanket, lawn chairs, and a light jacket as it may get cooler towards the end of the evening.
In addition to the funds raised from the concert tickets, there will be a silent auction once more, accessible from your smartphone, tablet, or computer. Anyone can participate in the silent auction, regardless of if they plan on attending the concert. Beginning June 10, you can place your bids on items ranging from international trips to local experiences, with a wide variety of price points of donated items. All funds raised from the event and silent auction will support the ECSO's mission "to inspire, educate, and connect our communities through live orchestral music."
Sarah Yanovitch-Vitale info:
Consistently recognized for her rich sound and musical sensitivity, Boston-based so­prano Sarah Yanovitch-Vitale is in demand as a concert soloist and ensemble musician. Ms. Yanovitch-Vitale has been a frequent soloist with Boston's Handel and Haydn Society under the artistic direction of Harry Christophers, singing the role of Belinda in Purcell's Dido and Aeneas, and soprano solos in Bach's B minor and G major masses, as well as in cantatas 10, 36, 61, 140, and 179. She made her solo debut at Tanglewood in the summer of 2017 with H+H in Purcell's Fairy Queen.
Other notable solo credits include the roles of Cupid and Venus in King Arthur with the Henry Purcell Society of Boston, Mozart's Mass in C minor and Handel's Judas Maccabaeus and Dixit Dominus at Boston University Marsh Chapel, Handel's Messiah and the Mozart Requiem with Arcadia Players, Bach's Mass in B Minor with Masaaki Suzuki and Juilliard 415, the Fauré Requiem and Beethoven Symphony No. 9 with the Eastern Connecti­cut Symphony, and the Brahms Requiem, Carmina Burana, and Vaughan Williams' Dona nobis pacem with Yale Glee Club. Outside of Boston, Sarah has sung with such leading choral ensembles as Bach Collegium San Diego, The Thirteen, Yale Choral Artists, and GRAMMY® nominated Seraphic Fire.
Ms. Yanovitch-Vitale is a graduate of the Yale School of Music and holds a master's degree in Early Music Voice through the Institute of Sacred Music. During her time at Yale, Ms. Yanovitch-Vitale worked closely with esteemed conductors Masaaki Suzuki, David Hill, and Simon Carrington, touring as a soloist throughout the United States, Italy, France, The Baltics, India, and the UK.
Gene Stenger info:
Hailed as an "impressive tenor" (The New York Times) who sings with "sweet vibrancy" (The Cleveland Plain Dealer) Gene Stenger is one of the country's most called upon Bach specialists who is also heralded for his performances of oratorios by Handel, Haydn, Mendelssohn, and Mozart. He has performed with leading ensembles and interpreters of early music while continuing to expand his repertoire to include music of the 20th and 21st centuries.
During the 2020-2021 season, Stenger performed as tenor soloist in several virtual projects, including a video production of Handel's Messiah produced by Classical Arizona PBS with the GRAMMY® nominated True Concord Voices & Orchestra as part of their Fall "Bubble" project and a reimagined staged production of Bach's St. John Passion with The Thirteen Chamber Choir. He was a featured tenor soloist with the Bach Society of St. Louis's 2021 Virtual Bach Festival, Bach Vespers at Holy Trinity New York, and with OperaTune Productions for their program "Hope Resurrected: A 3-part Classical Easter Concert Series Experience" broadcast live on WMNR Radio. When live performances resumed, Gene joined Teatro Nuovo covering the role of Count Almaviva in Rossini's The Barber of Seville, and returned to the Staunton Music Festival, singing the role of Damon in Handel's Acis and Galatea.
Gene's 2019-2020 season featured his debuts with the Buffalo Philharmonic Orchestra (Mozart's Requiem), Odyssey Opera (world premiere of Arnold Rosner's The Chronicle of Nine), and Bach Vespers at Holy Trinity New York (BWV 140 &144). His return solo engagements included performances with the Bach Society of St. Louis (Mozart's Requiem, and Bach's Magnificat), Wisconsin Chamber Orchestra (Handel's Messiah), Colorado Bach Ensemble (Handel's Messiah), and TENET Vocal Artists (Bach's Christmas Oratorio). Gene was scheduled to have made solo debuts with Portland Symphony Orchestra, New Haven Symphony Orchestra, Orchestra Seattle & Seattle Chamber Singers, and Chatham Baroque, as well as returning engagements with Virginia Symphony Orchestra, Wisconsin Chamber Orchestra, Madison Bach Musicians, Bach Collegium at St. Peter's New York, and the Yale Camerata, all of which have been canceled or postponed due to COVID-19.
His 2018-2019 season featured debuts with the Staunton Music Festival (Handel's Theodora, and Bach's St. Matthew Passion), Bach Akademie Charlotte (Bach's Magnificat, and St. Matthew Passion), the Harvard Baroque Orchestra (Handel's Judas Maccabeus), Emmanuel Music (BWV 24 & 28), and the Wisconsin Chamber Orchestra (Handel's Messiah). His return solo engagements included performances with the Virginia Symphony Orchestra (Handel's Messiah), TENET Vocal Artists (Handel's Messiah, and Bach's St. Matthew Passion), the Baldwin Wallace University Bach Festival (BWV 4), the Oregon Bach Festival (BWV 74), and Bach Collegium at St. Peter's New York (Bach's St. John Passion).
Mr. Stenger has also made appearances with the Internationale Bachakademie Stuttgart, performing as the tenor soloist in Bach's St. Matthew Passion under the baton of Helmuth Rilling, which included an international tour in both Germany, and South America, and was featured in a documentary about Rilling's life entitled Ein Leben mit Bach (A Life with Bach), the American Classical Orchestra, Voices of Ascension, the Northeast Pennsylvania Bach Festival, the Yale Symphony Orchestra at Carnegie Hall, the Yale Schola Cantorum at Lincoln Center, and has also performed a solo quartet version of David Lang's The Little Match Girl Passion at the Metropolitan Museum of Art.
Stenger has performed chamber music with ensembles including the GRAMMY® award-winning Apollo's Fire: the Cleveland Baroque Orchestra, the Handel and Haydn Society, the GRAMMY® nominated True Concord Voices and Orchestra, the GRAMMY® nominated Choir of Trinity Wall Street, the Clarion Music Society, and the Yale Choral Artists.
Stenger's opera credits include Tonio-cover (La fille du Régiment), King Kaspar (Amahl and the Night Visitors), and El Remendado (Carmen) with Opera Fort Collins, where he served as an Apprentice Artist with the company from 2010-2013. Additional opera roles include Paolino (Il matrimonio segreto), Peter Quint-cover (Turn of the Screw), the roles of Pirelli and The Beadle (Sweeney Todd), and Marco Palmieri (The Gondoliers) with the Charles and Reta Ralph Opera Center, Pygmalion-cover (Pygmalion) with the American Bach Soloists Academy, Albert Herring (Albert Herring) with Opera in the Ozarks, and the role of the Stage Manager in the Ohio premiere of Ned Rorem's Our Town with Baldwin Wallace University Opera. Internationally, Gene has performed Ferrando (Cosi fan tutte) with Opera Orvieto, and has also participated in an opera scenes exchange program with students from East China Normal University in Shanghai, China.
Originally from Pittsburgh, PA, Gene holds degrees from Yale University's School of Music, and Institute of Sacred Music, Colorado State University, and Baldwin Wallace University Conservatory of Music. Recent discography credits include tenor soloist in Schmelzer's Le Memorie Dolorose with TENET Vocal Artists and ACRONYM, and tenor soloist on Yale Schola Cantorum's album Fauré Requiem and other sacred music led by David Hill released on Hyperion Records. In 2017, Gene was a Virginia Best Adams Vocal Fellow with the Carmel Bach Festival, and was a prize winner in the annual Handel Aria Competition. He currently resides in New Haven, CT, where he serves as instructor of voice at Yale University.
General organizational information:
Led by Music Director and Conductor Toshiyuki Shimada, the ECSO is now in its 75th season. It is a 501(c)(3) nonprofit organization serving the eastern Connecticut region, including New London, Norwich, Waterford, Groton, Mystic, Old Lyme, and East Lyme. Visit www.ectsymphony.com for more information and follow us on social media (Facebook, Instagram, Twitter, YouTube) @ectsymphony.
Founded in 1946 by Norwegian immigrant, Victor Norman, the mission of the Eastern Connecticut Symphony Orchestra is to inspire, educate, and connect our communities through live orchestral music.